You can buy the Oracle8 Database Design Using UML Object Modeling book.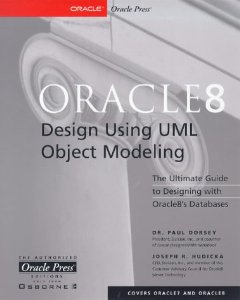 Authors
Paul Dorsey, Joseph R. Hudicka
Book Description
Publication Date: December 21, 1998 | Series: Oracle Press Series
Thorough coverage of Oracle8's object and relational database design — the first book available of it's kind
Author team are award-winning members of the Oracle community and favorite speakers at Oracle Users Group conferences
Shows reader how to implement the concepts in the real-world
Teaches how to fully use the Object-oriented capabilities of Oracle8
Covers the often neglected areas of database design system requirements, like changes to records, data entry errors, and basic transaction history – key topics that every database designer must address
Heavy focus on the translation of business rules into a physical database design allowing applications to run efficiently while enforcing a maximum percentage of the data-related business rules
Note: This book was written to support the then new object extensions in Oracle8.  The object extensions in Oracle ended up not being used by most and the book is obsolete.